I'm starting to believe it when I hear "cherish these years, they go by so fast". It feels like just yesterday that I had a toddler and a newborn, and even though they're only 3 and 5 now, our lives are becoming a whole new kind of busy and I think the years are really going to start flying now! I know that lots of kids hold signs for their 'back to school' pictures now (I haven't been on the ball enough to do it myself but I love the idea) and one thing that is on many of those signs is what the child wants to be when they grow up. I just asked Rowan what she wants to be and she said a doctor or a librarian (after being told that Stormtrooper wasn't a valid choice); Ashlyn wants to be a teacher and a mommy. It's a good thing we've already started saving for their post-secondary education!
I was a part of the RBC RESP campaign last year and I was happy to be chosen to participate again this year. If you're on the fence about starting an RESP,the RBC Education page has great information on it that may just sway you.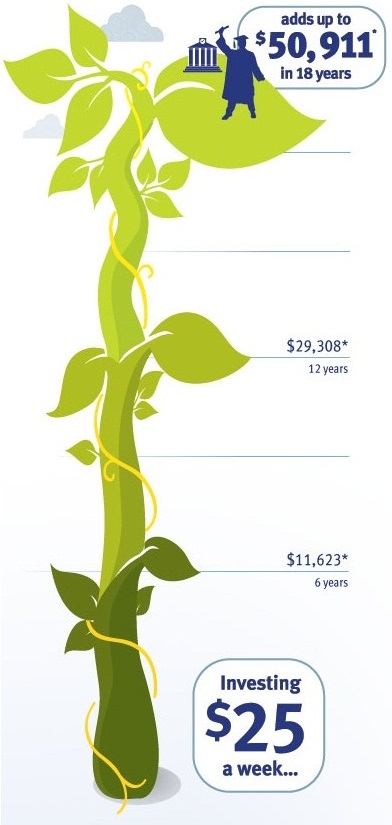 Regular contributions, started early, can be a game changer. For example, $25 a week can grow to over $50,000 in 18 years!
The easiest way to do this is with a system like the RBC RESP-Matic® that makes automatic deposits into the RESP from your bank account
Don't forget to take advantage of government grants! The Canadian government will match 20% of the first $2,500 contributed each year for eligible children, up to a total of $7,200.
When kids are young, it can be tough to find the extra money to set aside for their education. They're constantly growing and needing new clothes and shoes and outerwear and what do you mean you've lost your water bottle AGAIN?! Something that I've recently come to realize is that live isn't going to get less expensive as our daughters get older. The clothes and shoes are more expensive, they eat more food at times than such tiny bodies should be able to hold, and their extra curricular activities and birthday parties sure add up! Starting to save now means that we're used to that money not being in our accounts, so we won't feel the sting of it as they continue to grow. And when the girls are old enough to start university (or college, or a trade, or part-time classes), they should have a great head start on covering all of the associated costs!
Follow @RBC_Canada on Twitter and then join in at the #RESPwithRBC Twitter party on October 1 for a chance to win one of 6 $100 gift cards. You can also check out Grow an RESP with RBC on Facebook and you could win one of four prizes of $500 (towards an RESP)!
Disclosure: I am part of the RBC RESP blogger program with Mom Central Canada and I receive special perks as part of my affiliation with this group. The opinions on this blog are my own