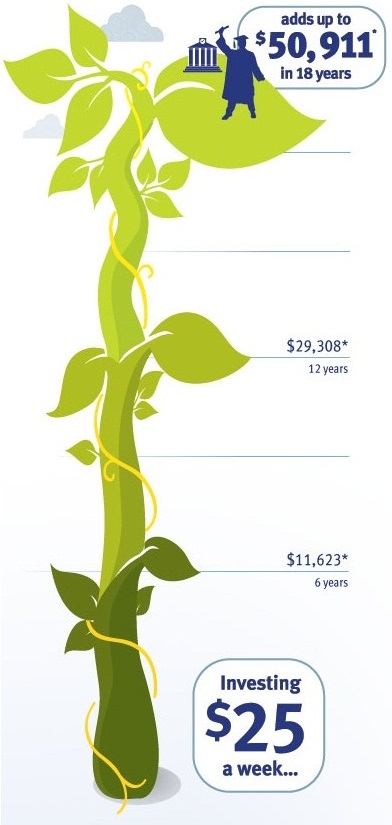 When I was deciding which universities to apply to back in high school, I was primarily looking at the location of the university and the programs that were offered, not the cost of tuition. Through a combination of savings from my parents, my own savings from part-time jobs during high school, scholarships and working part-time and over the summer breaks I was able to graduate with a bachelor's degree in commerce and zero student debt. This had a huge impact on my life because just 6 months after graduating, my now-husband and I moved across the country to start his career and not having a cloud of debt over my head made it easier to set up our new life – and afford all of our new bills!
Post-secondary education is something that my husband and I feel very strongly about. While we agree that we want our daughters to be responsible for a portion of their education costs – because we both saw many peers whose parents were providing an 'all expenses paid' trip to university who did not take their studies seriously – we also don't want them to start their adult lives behind the proverbial eight-ball.
When Ashlyn was a baby we went to our bank to set up an RESP. We like the flexibility that an RESP offers: the funds can be used for university, college, apprenticeship, or even non-credit courses, and if for some reason neither of our daughters use the funds, we can use our contributions and earnings to fund our RRSPs. The biggest reason that we wanted to set up an RESP was to take advantage of the Canada Education Savings Grant, which will match up to 20% on the first $2,500 contributed annually. That could mean up to $500 a year, up to a lifetime maximum of $7,200! You can find out more information and benefits at the RBC RESP page.
Our preferred way of saving is similar to the RBC RESP-matic system, which can be summed up as 'set it and forget it'. Every month, I take my Canada Child Tax Benefit and have it automatically deposited into the RESP. The money barely hits my account so I don't notice that it's 'missing' and having an automatic deposit means one less thing for me to remember to do every month and ensures that the money isn't spent on other things! We are also happy to encourage their grandparents to make a contribution for their birthdays or Christmas; there are only so many toys and clothes a little girl needs at any one time and the more we can save now, the less stress we'll all be feeling in the not-so-distant future!
Disclosure: I am part of the RBC RESP blogger program with Mom Central Canada and I receive special perks as part of my affiliation with this group. The opinions on this blog are my own.