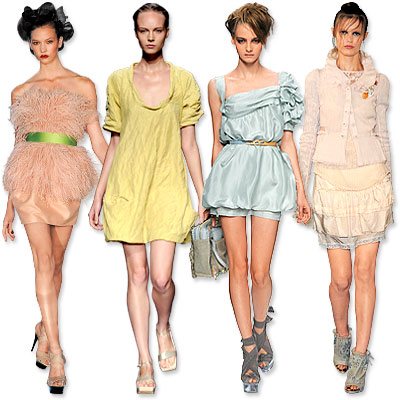 Although it's been spring in Vancouver since…well, the fall, really (please don't send me hate mail!), I've been looking forward to the new spring collections in stores for weeks. There's something wonderful about fun new clothes after months of layers and slush (or rain, in my case).
According to InStyle Magazine, these are the hot spring trends. Don't say I didn't warn you!
Anything grey or silver

: while I don't think I'll be rocking a shiny silver trench any time soon, silver would make a great accent for a bag or shoes. Grey is a favourite of mine so I'm happy that it will be easy to find this season!
Prints: on everything from shoes and bags to tanks and pants.

Trekker

: it's global, hippie and casual.

Peepshow

: careful with this one! Lacy, racy and best suited for a big night out.

Short

: for skirts and shorts – get thyself to a gym if you're brave enough to go for it!